DCT Overview
From EMIT Controls
See the bottom part of this page for a general overview, or the articles below for specific topics.
DCT Documents and Guides
Main Guides
DCT System Settings or Utilities
Minor Topics
DCT Telematics Setup and Screens
Overview
EMIT Dynamic Control is a modular solution engineered to meet the wide range of requirements found in air fuel ratio control, engine ignition, compliance monitoring, and compressor protection and control applications. The architecture of the system is based on a single user interface that is capable of operating and managing multiple modules, each with their own primary function. This configuration allows the system to be highly flexible in the approach necessary to solving issues found in typical and complex applications. Additionally, each module is capable of accepting a range of auxiliary inputs that can be used to further facilitate advanced operations for the most demanding scenarios.
The system is built around the Dynamic Control Touchscreen, which provides a 12" touchscreen display to present data and interact with any connected modules. Modules are connected to the touchscreen through a high-speed daisy-chain style configuration, and upon detection are automatically made available for operation within the display. The display also acts as the communication hub for the system providing access to datalog downloads through USB, remote data access through Ethernet and RS-485 connections, local WiFi Access, and cellular remote data access.
Touchscreen Connections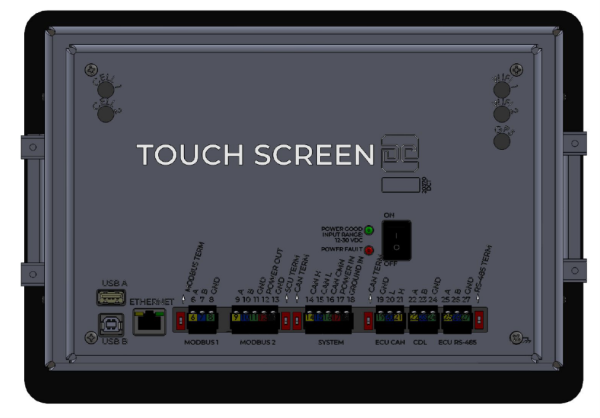 The connections available on the back of the touchscreen are shown in the diagram above, and include the following:
SYSTEM: Main power and communications connector. Input voltage is 12-30v DC and should be fused to 2A
MODBUS 1,2: Modbus ports for connection to SCADA system (RS-485). Can be configured for different baud rates.
ECU CAN, CDL, ECU RS-485: Connection options to ECUs (Engine control units)
ETHERNET: Ethernet port for Modbus/TCP
USB A: USB Host port for downloading datalogs and other items to a thumb drive
USB B: Manufacturing use only
CELL 1,2: Connections for cell phone antenna(s) for remote data collection if activated. Cell 2 is only used in rare cases where signal strength is very low.
WIFI 1,2: Connections to wifi antenna(s) for local viewing of runtime data on a cell phone
GPS: Connection to GPS antenna
NOTE: The back connections should be protected from access in the panel by some tool-required latch.
Power
12 – 30VDC power supply input range
Typical power consumption: 11W (Low brightness) - 25W (Max brightness)
Maximum power consumption: 30W
Environmental
Temperature: -30°C to +85°C (-22°F to 185°F) T4
Humidity: 5% - 90%, non-condensing
Communication
Controller Area Network (CAN) network for access to additional EMIT modules
USB host for datalog access and software updates
RS-485 half-duplex MODBUS RTU (2)
Ethernet port for Modbus/TCP access
Wifi Antenna for local wireless access to unit information
Cell module for remote data collection and callouts
GPS for location service & accurate time